If you have an iPhone and are an expat in Dubai, there are some iPhone applications (apps) you absolutely must have.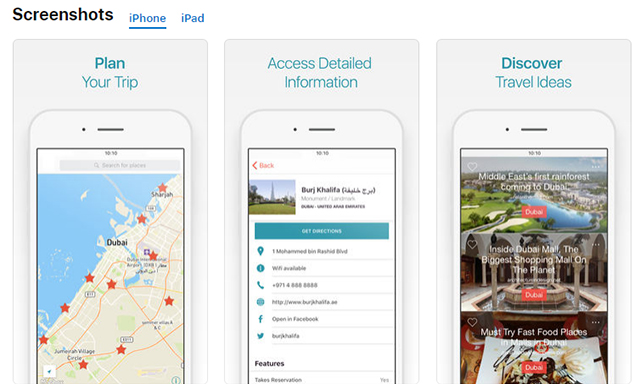 Ulmon Dubai Travel Guide and Offline Map
This is the ideal app for the new expat. The app has maps as well as things to do and, at the time of writing, has received more than 10k downloads. It has the usual maps and routes function (which Google Maps offer) but adds in a variety of search functions, local information and trip planning function.
If you've just landed in Dubai and want to find out more about your adoptive country, then this should be the first app you download, the app contains advice in its 'Discover' section. These tips can be saved and organised within the app.
The 2017 update included an updated map and 60% more places — most of which include pictures and details of opening hours.
Visit Dubai
This is a great app to help you make the most of your time in Dubai with its extensive listings of sights, attractions and activities. The app allows you to create your own customised itineraries and features include a handy currency converter, downloadable maps and guides for off-line use. The app is also available in six different languages — Arabic, English, French, German, Russian, and Mandarin. Some users have found some issues with logging in, but the majority using the app rate it highly.
Some expats use it to plan extra events when family and friends visit and its geo-location feature prompts users to find landmarks that are close by.